Clenbuterol
Clenbuterol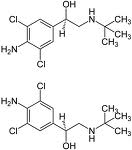 CAS:37148-27-9
Molecular Formula:C12H18Cl2N2O
Molecular Weight:277.19
Product Description:Clenbuterol (Spirovent, Ventipulmin) is a sympathomimetic amine used by sufferers of breathing disorders as a decongestant and bronchodilator. People with chronic breathing disorders such as asthma use this as a bronchodilator to make breathing easier. It is most commonly available in salt form as Clenbuterol hydrochloride.
Human use:Clenbuterol is approved for use in some countries (via prescription only) as a bronchodilator for asthma patients. Recently though, the drug has been publicized for its off-label use as a weight loss drug, similar to usage of other sympathomimetic amines such as Ephedrine. It is commonly used as a slimming aid despite lack of sufficient clinical evidence supporting such use.
Please

at any time if you are interested in Clenbuterol.
If you want to know about Clenbuterol price , please call our Customer Services Hotline +86 592 5365887 or send the email to sales@medicinerawmaterials.com.



 After send online enquiry, we will reply you as soon as possible, if not get any response on time please contact us by Tel or Email.
Email:
sales@medicinerawmaterials.com
Tel: +86 592 5365887
WhatsApp: +86 189 6515 7632
Leave a Message
We will contact you within 24 hours.
You may also be intersted in these products.