Mexidol Succinate
Mexidol Succinate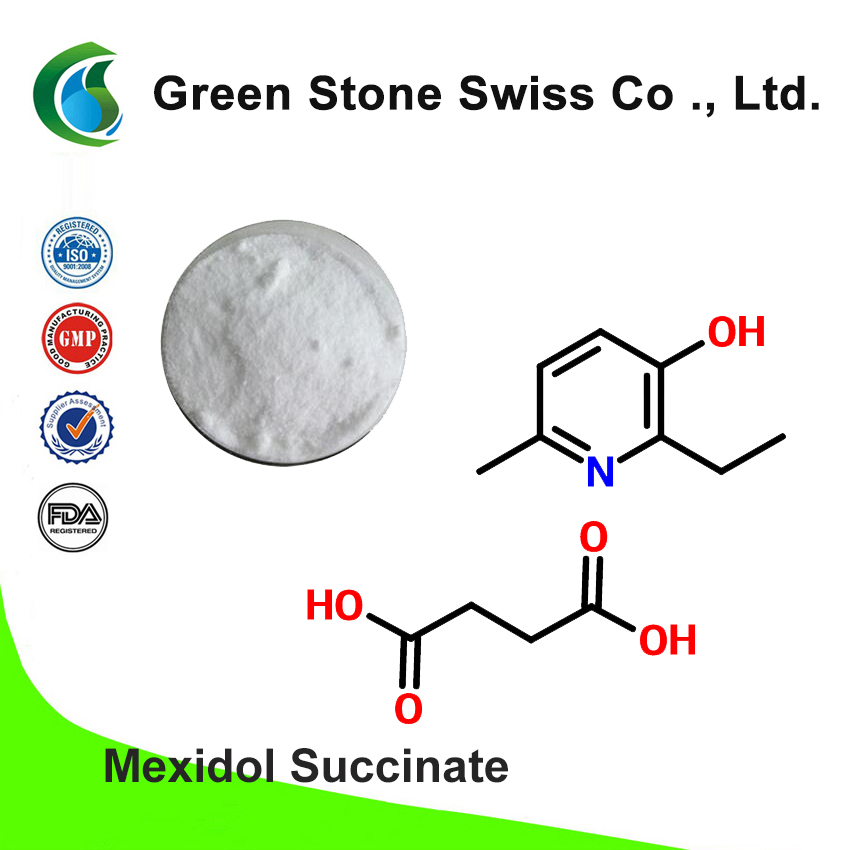 CAS No.: 127464-43-1
Other Names:  Mexidol powder; Mexidol, Mexifin, 2-ethyl-6-methyl 3-hydroxypiridine
Molecular Formula:  C8H11NO.C4H6O4
Molecular Weight:  255.27
Appearance:  White to off white crystalline powder
Boiling point: 280.6 degree centigrade at 760 mmHg
Flashing point: 123.5  degree centigrade 
Purity: 99%
Main Function: anxiolytic, nootropic, neuroprotective, antidepressant, anti-hypoxic, and anti-addictive
Application:
1. Use in neurology, therapeutics, psychiatry, surgery and addictology.
2. Emoxypine succinate offers anti-depressive, dermaprotective, and stress reducing. 
3. Improves the cognitive function and brain health of patients with mental damage and disorders by increasing mitochondrial oxygen consumption.
4. Increases the average blood flow in patients with heart trouble, while also reducing oxidative stress.
5. Helps improve vision by way of increasing blood flow to the retinal artery.
Product Description:
Mexidol Succinate chemical structure resembles that of pyridoxine (a type of vitamin B6).It is an axiolytic nootropic with anticonvulsant, neuroprotective and anti-inflammatory actions. It improves cerebral bloodflow, lowers cholesterol and is cardioprotective. It also increases dopamine levels in the brain.
Mexidol Succinate is characterized by a wide spectrum of pharmacological effects, it has cerebroprotective, nootropic, antihypoxic, anxiolytic, antistress and anticonvulsant effects, eliminates the deficiency of CNS functions during aging.
Mexidol Succinate is a high-end antioxidant and antihypoxic drug with an unique multipurpose action mechanism. As a basis of antioxidant neuroprotection, Mexidol positively influences the main components of pathogenesis of a disease, connected with the processes of free-radicals oxidation and oxygen-dependent pathological conditions. Mexidol found a successful use in neurology, therapeutics, psychiatry, surgery and addictology.
Mexidol Succinate improves energy metabolism in the cell, which along with antioxidant action creates the basis for an antihypoxic effect. The drug has a modulating effect on the activity of membrane-bound enzymes and receptor complexes of brain cell membranes, in particular GABA-benzodiazepine and acetylcholine. He himself does not bind to these receptor structures, but changes the content of mediator monoamines and amino acids in the structures of the brain. Meksidol increases the level of dopamine and endogenous peptides, blocks the activity of serine proteinases and metalloproteases.
Please

at any time if you are interested in Mexidol Succinate.
If you want to know about Mexidol Succinate price , please call our Customer Services Hotline +86 592 5365887 or send the email to sales@medicinerawmaterials.com.

Disclaimer: the information on this website is from the internet for reference only. Please refer to the actual instructions attached to the product and the final interpretation is owned by the company.


Welcome to contact us
We sincerely welcome friends from all over the world to contact us. ​After sending an online inquiry, we will reply to you as soon as possible. If you do not get any response on time please call us.
We are committed to meeting customers' unique needs by providing comprehensive and professional service, enjoying a good reputation among our business partners and customers for high-quality products, excellent after-sales services, competitive prices, and prompt shipping.
Green Stone Swiss Co ., Ltd. Warehouse&Office
Shanghai Office: 168 Zhonggu Rd, Pingpu District, Shanghai, China.
Xiamen Office: 106, Houdaixi Road, Xiamen, China.
Tel: +86 592 5365887
Mobile phone: +86 189 6515 7632
E-mail:sales@medicinerawmaterials.com(Reply within 1 working day)

Our Sales Director
Company Culture
Our orientation:
Supplying safe and efficient ingredients and formulas for cosmetic and nutritional products.
Our mission:
Offering the best product design to customers with natural and high-quality raw materials.
Our values:
Honesty  Profession Win-win Cooperation
You may also be intersted in these products.