Ethambutol Hydrochloride
Ethambutol Hydrochloride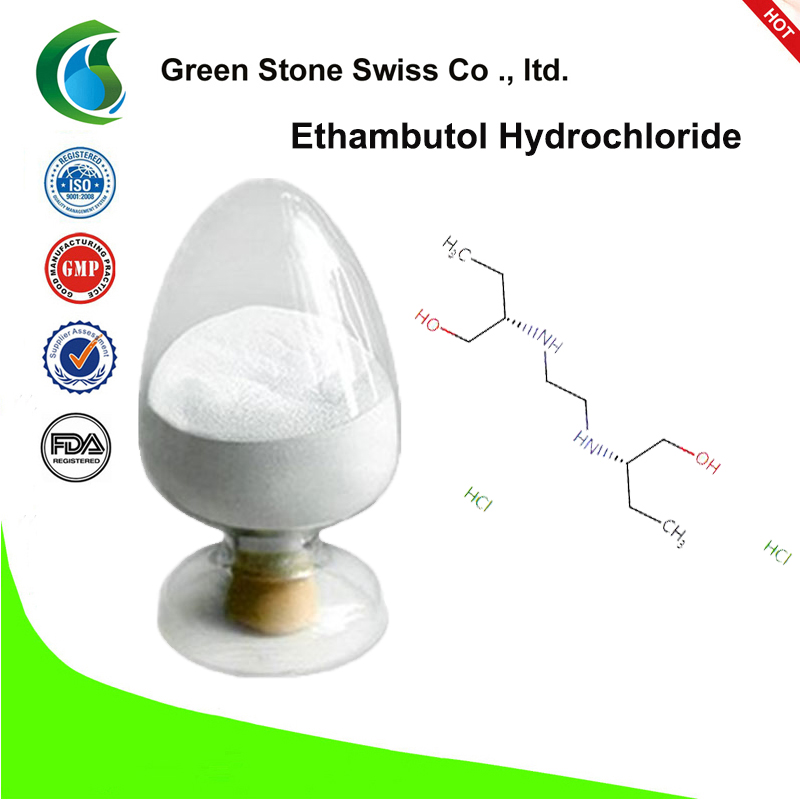 Synonym: Dadibutol, Myambutol; Ethambutol dihydrochloride
Chemical Name: 1-Butanol,2,2'-(ethylenediimino)di-,dihydrochloride,(+)-
CAS NO.: 1070-11-7
Molecular Formula: C10H26Cl2N2O2
Molecular Weight: 277.23
Appearance: White Powder
Melting Point: 201°C (393.8°F)
Solubility:Easily soluble in cold water, hot water. Soluble in alcohol.
Use: Antibacterial (tuberculostatic)
Main Function: Pharmaceutical Intermediates
Purity: 99%min
Description: 
Ethambutol hydrochloride is an antitubercular agent that inhibits the transfer of mycolic acids into the cell wall of the tubercle bacillus. It may also inhibit the synthesis of spermidine in mycobacteria. The action is usually bactericidal, and the drug can penetrate human cell membranes to exert its lethal effect. Ethambutol Hydrochloride is the hydrochloride salt form of ethambutol, an ethylenediamine derivative with antibacterial activity, specifically effective against mycobacteria. Although the exact mechanism of action of ethambutol hydrochloride is unknown, ethambutol hydrochloride inhibits the transfer of mycolic acids into the cell wall of bacteria, which impedes bacterial cell growth. This agent may also interfere with RNA synthesis or inhibit other cell metabolism, thereby preventing cell multiplication and causing cell death.
Please

at any time if you are interested in Ethambutol Hydrochloride.
If you want to know about Ethambutol Hydrochloride price , please call our Customer Services Hotline +86 592 5365887 or send the email to sales@medicinerawmaterials.com.



 After send online enquiry, we will reply you as soon as possible, if not get any response on time please contact us by Tel or Email.
Email:
sales@medicinerawmaterials.com
Tel: +86 592 5365887
WhatsApp: +86 189 6515 7632
Leave a Message
We will contact you within 24 hours.
You may also be intersted in these products.