Rosalic Acid
Rosalic Acid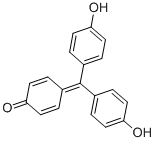 CAS : 603-45-2
Molecular Formula : C19H14O3
Molecular Weight : 290.32
Product Description :
Aurin (C.I. 43800), sometimes named rosolic acid or corallin is an organic compound, forming yellowish or deep-red crystals with greenish metallic luster. It is practically insoluble in water, freely soluble in alcohol. It is soluble in strong acids to form yellow solution, or in aqueous alkalis to form carmine red solutions. Due to this behaviour it can be used as pH indicator with pH transition range 5.0 - 6.8. It used as intermediate in manufacturing of dyes.
Please

at any time if you are interested in Rosalic Acid.
If you want to know about Rosalic Acid price , please call our Customer Services Hotline +86 592 5365887 or send the email to sales@medicinerawmaterials.com.



 After send online enquiry, we will reply you as soon as possible, if not get any response on time please contact us by Tel or Email.
Email:
sales@medicinerawmaterials.com
Tel: +86 592 5365887
WhatsApp: +86 189 6515 7632
Leave a Message
We will contact you within 24 hours.
You may also be intersted in these products.