Loviride
Loviride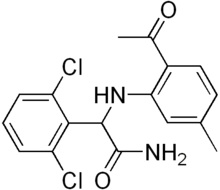 Synonyms :  Benzeneacetamide, alpha-((2-acetyl-5-methylphenyl)amino)-2,6-dichloro- , (+-)-
CAS No. : 147362-57-0
Molecular Formula :  C17H16Cl2N2O2 
Mol. mass : 351.227 g/mol
Product description :
Loviride (also called Loveride[citation needed]) was an antiviral  that is active against HIV. Loviride is an NNRTI that entered phase III clinical trials in the late 1990s but failed to gain marketing approval because of poor potency. It is of clinical significance only in those patients who were enrolled in clinical trials to evaluate loviride (e.g., CAESAR and AVANTI), because in those trials Loviride was often given alone and with no companion drug, leading to a high probability of developing reverse transcriptase mutations such as K103N which result in cross-class resistance to all NNRTI's.
Please

at any time if you are interested in Loviride.
If you want to know about Loviride price , please call our Customer Services Hotline +86 592 5365887 or send the email to sales@medicinerawmaterials.com.



 After send online enquiry, we will reply you as soon as possible, if not get any response on time please contact us by Tel or Email.
Email:
sales@medicinerawmaterials.com
Tel: +86 592 5365887
WhatsApp: +86 189 6515 7632
Leave a Message
We will contact you within 24 hours.
You may also be intersted in these products.