Isoxepac
Isoxepac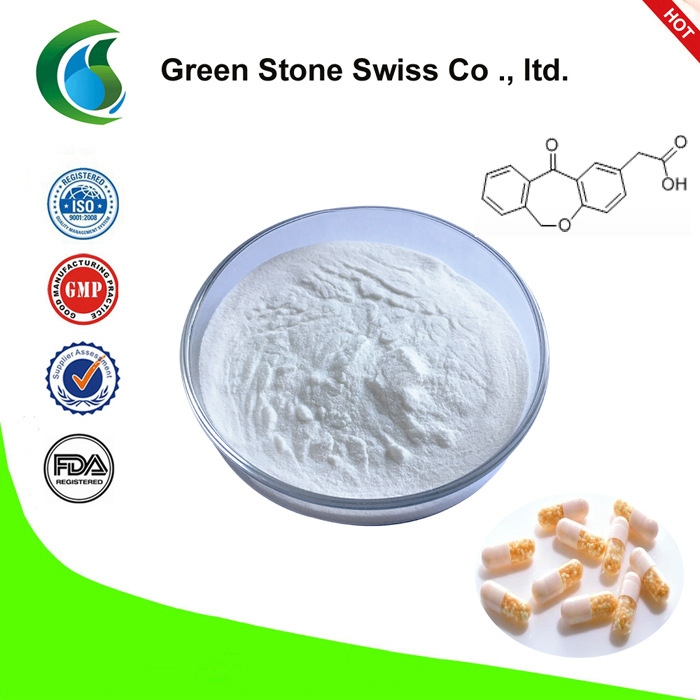 CAS No.: 55453-87-7 
Synonyms:6,11-dihydro-11-oxo-dibenz[b,e]oxepin-2-acetic acid;(11-oxo-6,11-dihydrodibenzo[b,e]oxepin-2-yl)acetic acid;11-Oxo-6,11-dihydrobenz(b,e)oxepin-2-acetic acid ;2-(11-oxo-6H-benzo[c][2]benzoxepin-2-yl)acetic acid;
Molecular Formula:C16H12O4
Molecular Weight:268.2641
Loss on drying:≤ 0.5% ; 
Residue on ignition:≤ 0.2% ; 
Melting point:130-132°C
Density: 1.349 g/cm3
Boiling Point: 528.2℃ at 760 mmHg
Flash Point: 203.8℃
Purity:≥ 98.5% 
Appearance:white powder
Application: Pharmaceutical intermediates and organic synthesis
Description About Isoxepac CAS 55453-87-7:
Isoxepac is a non-steroidal aryl acetic acid derivative, usually is used as pharmaceutical intermediate. Isoxepac is a non-steroidal anti-inflammatory with analgesic and antipyretic activity.
Isoxepac is used for the treatment of duodenal ulcers, gastric ulcers, reflux esophagitis, Zollinger-Ellison syndrome and other high gastric acid secretion diseases.
Please

at any time if you are interested in Isoxepac.
If you want to know about Isoxepac price , please call our Customer Services Hotline +86 592 5365887 or send the email to sales@medicinerawmaterials.com.



 After send online enquiry, we will reply you as soon as possible, if not get any response on time please contact us by Tel or Email.
Email:
sales@medicinerawmaterials.com
Tel: +86 592 5365887
WhatsApp: +86 189 6515 7632
Leave a Message
We will contact you within 24 hours.
You may also be intersted in these products.