Hexanoic acid
Hexanoic acid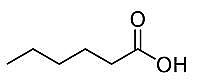 CAS No.: 142-62-1
Molecular Formula: C6H12O2
Product Description:  Hexanoic acid, is the carboxylic acid derived from hexane with the general formula C5H11COOH. It is a colorless oily liquid with an odor reminiscent of goats or other barnyard animals. It is a fatty acid found naturally in various animal fats and oils, and is one of the chemicals that gives the decomposing fleshy seed coat of the ginkgo its characteristic unpleasant odor. The salts and esters of this acid are known as hexanoates or caproates.
Please

at any time if you are interested in Hexanoic acid.
If you want to know about Hexanoic acid price , please call our Customer Services Hotline +86 592 5365887 or send the email to sales@medicinerawmaterials.com.



 After send online enquiry, we will reply you as soon as possible, if not get any response on time please contact us by Tel or Email.
Email:
sales@medicinerawmaterials.com
Tel: +86 592 5365887
WhatsApp: +86 189 6515 7632
Leave a Message
We will contact you within 24 hours.
You may also be intersted in these products.