Buserelin
Buserelin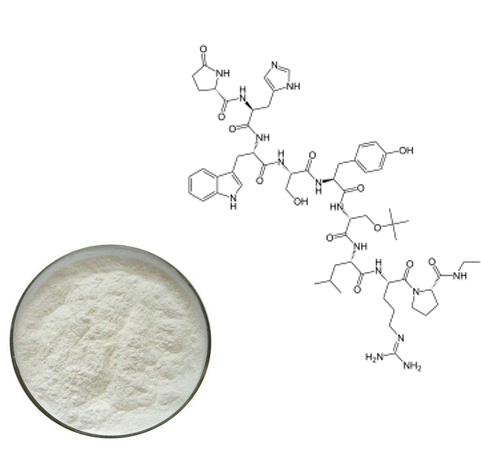 CAS No.: 57982-77-1
Molecular Formula: C60H86N16O13
Molecular Weight: 1239.42
Density: 1.43 g/cmsup>3
Appearance: White powder
Purity: 98%
Formulation: The Buserelin peptide was lyophilized with no additives.
Description About Buserelin CAS 57982-77-1: 
Buserelin is a hormone therapy drug and may be used in the treatment of hormone-responsive cancers such as prostate cancer or breast cancer, estrogen-dependent conditions (such as endometriosis or uterine fibroids), and in assisted reproduction.It acts on the pituitary gland which controls the amount of many different types of hormones (chemical messengers).
Buserelin, known as Profact in the German pharmaceutical market, has long been used in the treatment of prostate cancer.
Storage:
It should be stored at 4°C between 2-7 days and for future use below -18°C.
Please

at any time if you are interested in Buserelin.
If you want to know about Buserelin price , please call our Customer Services Hotline +86 592 5365887 or send the email to sales@medicinerawmaterials.com.



 After send online enquiry, we will reply you as soon as possible, if not get any response on time please contact us by Tel or Email.
Email:
sales@medicinerawmaterials.com
Tel: +86 592 5365887
WhatsApp: +86 189 6515 7632
Leave a Message
We will contact you within 24 hours.
You may also be intersted in these products.