Albaconazole
Albaconazole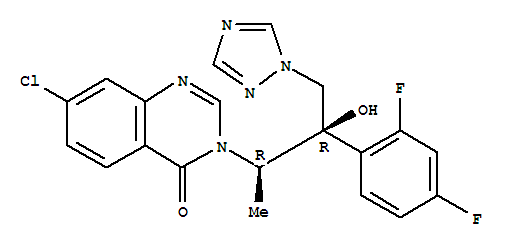 Systematic (IUPAC) name:7-chloro-3-[(2R,3R)-3-(2,4-difluorophenyl)-3-hydroxy-4-(1,2,4-triazol-1-yl)butan-2-yl]quinazolin-4-one
CAS number:187949-02-6
Formula: C20H16ClF2N5O2 
Mol. mass:431.823146 g/mol
Product description:Albaconazole (UR-9825) is a triazole antifungal. It has potential broad-spectrum activity.
Please

at any time if you are interested in Albaconazole.
If you want to know about Albaconazole price , please call our Customer Services Hotline +86 592 5365887 or send the email to sales@medicinerawmaterials.com.



 After send online enquiry, we will reply you as soon as possible, if not get any response on time please contact us by Tel or Email.
Email:
sales@medicinerawmaterials.com
Tel: +86 592 5365887
WhatsApp: +86 189 6515 7632
Leave a Message
We will contact you within 24 hours.
You may also be intersted in these products.