Stevia Extract
Stevia Extract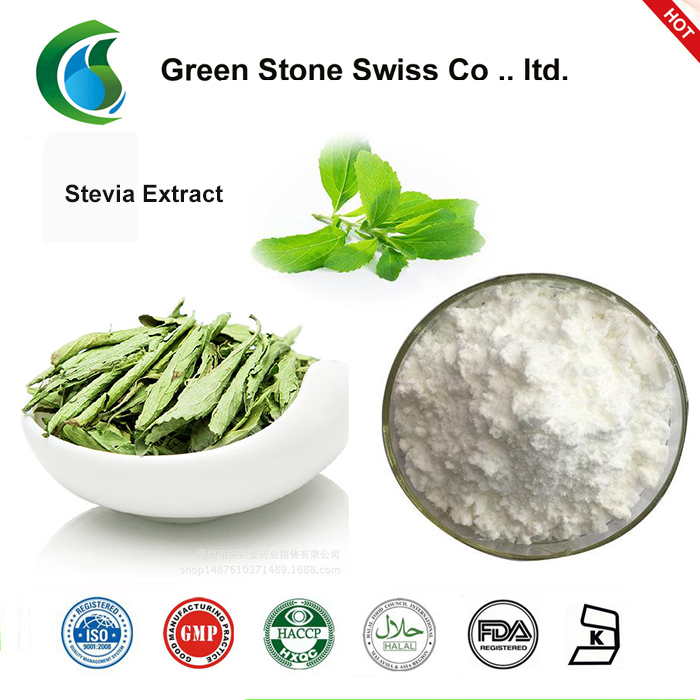 Botanical Name:  Stevia rebaudiana Bertoni
Specification: Steviosides98%  Rebaudioside A(Reb A or RA) 40%,95%
Part Used: Leaf
Detection methods:   HPLC
Active Ingredient: Stevioside 
Application of Stevia Leaf Extract:
Food, beverage, medicine medium, sweetener complex, pickles, cosmetics, cigarette flavour, and toothpaste, etc.
Function of Stevia Leaf Extract:
1. It controls high blood pressure.
2. It checks blood sugar levels.
3. It helps lose weight and reduce cravings for fatty foods.
4. Adding stevia to your mouthwash or toothpaste results in improving oral health.
5. Stevia induced beverages lead to improved digestion and gastrointestinal functions besides providing relief from upset stomachs.
6. Its anti-bacterial properties help prevent minor illness and cure mnor wound.
7. Stevia helps solve various skin problems.  

Product Description:
Stevia is natural Green Sweetener, which is extracted from Stevia Leaves (Herbaceous herb of the Composite family) and was proved to be "Green Food" by the Center of China Green Food Development. 
Stevia is a sweetener and sugar substitute extracted from the leaves of the plant species Stevia rebaudiana. The active compound of stevia is steviol glycosides (mainly stevioside and rebaudioside). It is heat-stable, pH-stable, and not fermentable. Stevia's taste has a slower onset and longer duration than that of sugar, and some of its extracts may have a bitter or licorice-like aftertaste at high concentrations.
Sweetness is more 200~300 times than cane sugar. Stevioside and Rebaudiana-A are main compositions of Stevia, which taste cool, refreshing, and soft. Mixture with citric acid, amino acid, salt and other sweetener will be tasted better.
The legal status of stevia as a food additive or dietary supplement varies from country to country. In the United States, high-purity stevia glycoside extracts are generally recognized as safe (GRAS) and allowed as ingredients in food products. The European Union approved stevia additives in 2011, while in Japan, stevia has been widely used as a sweetener for decades.
Stevia has been used as Food additives for more than 400 years in Paraguay. It does not join the metabolism, no toxicity which was approved by FAO & WHO. Stevia is widely used as Food Sweetener (No special limit of quantity) in Japan and also be separately approved as Natural Sweetener and Medicine medium by China Hygienic Department in 1985 and 1990.
As sweetener in beverage and food, it can be bacteriostatic and protrat the expiry of qaulity guaranteed. In addition, Stevia can make nearly a 60% reduction in the cost of production, expenses of transportation and storehouse can also be saved at same time.
Please

at any time if you are interested in Stevia Extract.
If you want to know about Stevia Extract price , please call our Customer Services Hotline +86 592 5365887 or send the email to [email protected].

Disclaimer: the information on this website is from the internet for reference only. Please refer to the actual instructions attached to the product and the final interpretation is owned by the company.


Welcome to contact us
We sincerely welcome friends from all over the world to contact us. ​After sending an online inquiry, we will reply to you as soon as possible. If you do not get any response on time please call us.
We are committed to meeting customers' unique needs by providing comprehensive and professional service, enjoying a good reputation among our business partners and customers for high-quality products, excellent after-sales services, competitive prices, and prompt shipping.
Green Stone Swiss Co ., Ltd. Warehouse&Office
Shanghai Office: 168 Zhonggu Rd, Pingpu District, Shanghai, China.
Xiamen Office: 106, Houdaixi Road, Xiamen, China.
Tel: +86 592 5365887
Mobile phone: +86 189 6515 7632
E-mail:[email protected](Reply within 1 working day)

Our Sales Director
Company Culture
Our orientation:
Supplying safe and efficient ingredients and formulas for cosmetic and nutritional products.
Our mission:
Offering the best product design to customers with natural and high-quality raw materials.
Our values:
Honesty  Profession Win-win Cooperation
You may also be intersted in these products.