Marigold Extract
Marigold Extract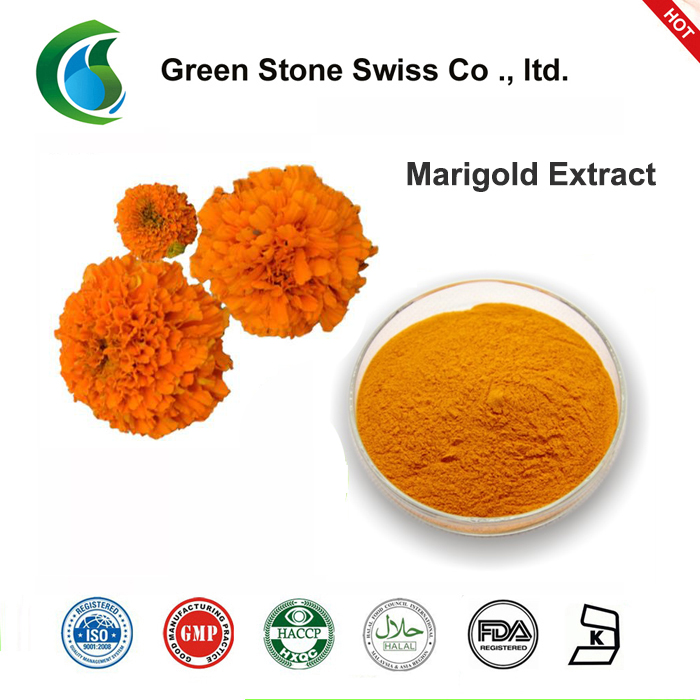 Botanical Name:Tagetes erecta L 
Specification:Lutein 80%, Zeaxanthin5%,25%
Grade: Pharmaceutical Grade, Food 
Active Ingredient: Lutein 
Detection method:HPLC
Function:
1. It can protect our eyesight, cure retina injury caused by light, and prevent cataract and blindness caused by AMD.
2. It is an antioxidant which can scavenge free radicals caused by light and metabolism and inhibit the lipid oxidation.
3. It can lower risk of getting cancer and inhibit several cancers.
Application: 
1. Food: It is mainly used as a food additive, such as colorant and nutrient.
2. Pharmaceutical: It is used to alleviate visual fatigue, reduce possibility of AMD, cataract, retinopathy, myopia, floaters, and glaucoma.
3. Cosmetics: It is mainly used for whitening, anti-wrinkle and UV protection.
4. Feed: It is mainly used in feed additive for laying hens and table poultry to improve the color of egg yolk and chicken, making high commercial-value fishes more attractive such as salmon, trout and spectacular fish.
Product Description:
Marigold can relieve digestive tract problems including poor appetite, swollen gas, stomach pain, colic, intestinal worms, and dysentery. It is also used for coughs, colds, mumps, fluid retention and sore eyes. Ingested by women, it is capable of inducing menstruation, treating sore breasts (mastitis), and protecting against miscarriage. Its florets are rich in the orange-yellow carotenoid lutein, which can help protect the eyes against oxidative stress and decrease the risk of eye diseases such as age-related macular degeneration (AMD) and cataracts. Moreover, lutein is used as a yellow/orange food color in the European Union, Australia and New Zealand for foods such as pasta, vegetable oil, margarine, mayonnaise, salad dressing, baked goods, confectionery, dairy products, ice cream, yogurt, citrus juice and mustard.
Effect:
Studies have shown that eating lutein- and zeaxanthin-rich foods or takingsupplements of these carotenoids can restore macular pigment density, whichdeclines with age. In fact, one such study of advanced macular degenerationpatients who were taking high-dose lutein supplements (4 mg or more per day)experienced "normal" levels after a few months.
Please

at any time if you are interested in Marigold Extract.
If you want to know about Marigold Extract price , please call our Customer Services Hotline +86 592 5365887 or send the email to sales@medicinerawmaterials.com.



 After send online enquiry, we will reply you as soon as possible, if not get any response on time please contact us by Tel or Email.
Email:
sales@medicinerawmaterials.com
Tel: +86 592 5365887
WhatsApp: +86 189 6515 7632
Leave a Message
We will contact you within 24 hours.
You may also be intersted in these products.