Macleaya Cordata Extract
Macleaya Cordata Extract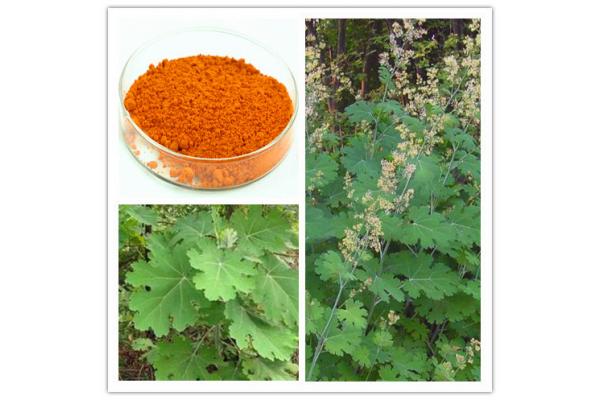 Latin Name:Macleaya cordata (Willd.) R. Br.
Part of the Plant Used:    Fruit/Seed
Active Ingredients:       Alkaloids, Sanguinarine, chelerythrine 
Product Specification:   
Total Alkaloids 2%, 20%,50%, 60%,80%
Sanguinarine 15%,40%,60%,98%
 Chelerythrine 5%,15%,20%,50%
Physiological Functions:
1. Strong bactericidal and antibacterial activity.
2. Anti-inflammatory 
3.Fungicidal and insecticidal
4.Antioxidant properties
5.Anti-cancer and treating prostate cancer
Applications:
Feed antibiotics, insecticide, bactericide and veterinary injection
Product description:
Macleaya cordata belongs to the family Papaveraceae, is a poisonous herb native to China and Japan. It is a perennial plant, with deep lobed leaves and dusty clouds of tiny blossom at the tips of erect stems, most often a white color. Macleaya cordata owns thousand years history of medicinal usage in China. It contains several alkaloids. Sanguinarine and chelerythrine are the main components of it, which have wide fungicidal and strong insecticidal activity. The antimicrobial activity against coccus, bacillus, gram-positive and electronegative bacterium. Macleaya cordata extract can help livestock effectively antimicrobial diarrhea, simulative bile and pancreatic secretion. Animal body experiment taken with rabbit contracting diplococcus pneumonlae proves that the injection of this Macleaya cordata Extract product can inhibit and postpone the effect of fervescence caused by diplococcus pneumonlae, and have the function of antibiosis and refrigeration. The injection can also be used to treat lobar pneumonia, acute quinsy tonsillitis, tympanitis and tumor of thyroid. etc. Macleaya cordata Extract also has the function of detumescence, detoxification and pesticide. It can be used in the treatment of furuncle, abscess, malignant boil, ulcer, scald and intractable tinea, etc. The suppositories of sanguinarine and chelerythrine are used on the treatment of cervical erosion in clinically. Sunfull's Macleaya cordata extract is easy to dissolve in methanol and ethanol solution. It is green, safe and effective.
Please

at any time if you are interested in Macleaya Cordata Extract.
If you want to know about Macleaya Cordata Extract price , please call our Customer Services Hotline +86 592 5365887 or send the email to [email protected].

Disclaimer: the information on this website is from the internet for reference only. Please refer to the actual instructions attached to the product and the final interpretation is owned by the company.


Welcome to contact us
We sincerely welcome friends from all over the world to contact us. ​After sending an online inquiry, we will reply to you as soon as possible. If you do not get any response on time please call us.
We are committed to meeting customers' unique needs by providing comprehensive and professional service, enjoying a good reputation among our business partners and customers for high-quality products, excellent after-sales services, competitive prices, and prompt shipping.
Green Stone Swiss Co ., Ltd. Warehouse&Office
Shanghai Office: 168 Zhonggu Rd, Pingpu District, Shanghai, China.
Xiamen Office: 106, Houdaixi Road, Xiamen, China.
Tel: +86 592 5365887
Mobile phone: +86 189 6515 7632
E-mail:[email protected](Reply within 1 working day)

Our Sales Director
Company Culture
Our orientation:
Supplying safe and efficient ingredients and formulas for cosmetic and nutritional products.
Our mission:
Offering the best product design to customers with natural and high-quality raw materials.
Our values:
Honesty  Profession Win-win Cooperation
You may also be intersted in these products.