Dandelion extract
Dandelion extract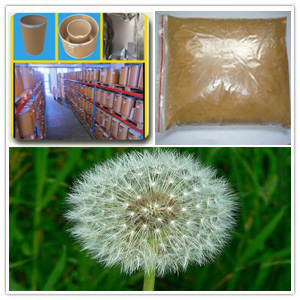 Specification:Flavone 4%, luteolin
Detection method:    UV
Botanical Name:  Taraxacum officinale
Functions:
1. Loss weight;
2. It is one of the most effective detoxifying herbs;
3. Dandelion extract is used in inflammation and congestion of liver;
4. Because of its high iron and zinc content, it is often used as a treatment for anemia;
5. Dandelion is used to treat chronic ulcers, stiff joints, and tuberculosis Improving liver function and promoting bile secretion and as a diuretic use;
6. Clearing away heat and toxic and Thanh Hoa heat effect can be Sanjie swelling. A broad-spectrum antimicrob.
Applications:
1. As raw materials of drugs for clearing and detoxifying, diuretic, treating hepatitis and so on, it is used in pharmaceutical field;
2. As products' active ingredients for diuretic, eliminating breast expansion and constipation, it is used in health industry.
Product description:
Dandelions, flowers, roots and leaves, have been used for centuries in traditional Chinese medicine & medicinal teas, most notably for liver detoxification, as a natural diuretic and inflammation reduction . Unlike other diuretics, dandelion leaves contain good amounts of potassium, a mineral that is often lost during increased micturition. There is also evidence that this property of dandelion leaves may normalize blood sugar Dandelion flowers contains luteolin, an antioxidant, and has demonstrated antioxidant properties without cytotoxicity.
Please

at any time if you are interested in Dandelion extract.
If you want to know about Dandelion extract price , please call our Customer Services Hotline +86 592 5365887 or send the email to sales@medicinerawmaterials.com.



 After send online enquiry, we will reply you as soon as possible, if not get any response on time please contact us by Tel or Email.
Email:
sales@medicinerawmaterials.com
Tel: +86 592 5365887
WhatsApp: +86 189 6515 7632
Leave a Message
We will contact you within 24 hours.
You may also be intersted in these products.