Celery Seed Extract
Celery Seed Extract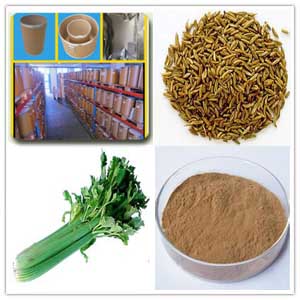 Specification: Butylphthalide         
Detection method:    HPLC        
Botanical Name: Apium graveoleus L.var.dulce DC.
About Celery Seed Extract:
1) Celery Seed is most often taken to aid in the maintenance of healthy joints. Celery Seed can also ease joint discomfort that occurs due to inflammation and is, in fact, mainly used for the relief of symptoms of such conditions as arthritis, rheumatism and gout. 
2) Celery Seed has an antiseptic property that makes it useful to the health of the urinary tract and a diuretic property to help relieve fluid retention.
Please

at any time if you are interested in Celery Seed Extract.
If you want to know about Celery Seed Extract price , please call our Customer Services Hotline +86 592 5365887 or send the email to sales@medicinerawmaterials.com.



 After send online enquiry, we will reply you as soon as possible, if not get any response on time please contact us by Tel or Email.
Email:
sales@medicinerawmaterials.com
Tel: +86 592 5365887
WhatsApp: +86 189 6515 7632
Leave a Message
We will contact you within 24 hours.
You may also be intersted in these products.