Bitter Melon Extract
Bitter Melon Extract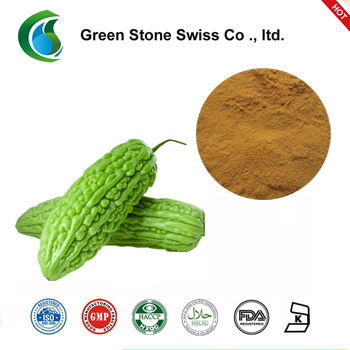 Synonyms:Momordica Charantia Linn. 
Purity:10%
Appearance:Brownish yellow powder
Storage conditions:Seal up,Cool and dry place.
Botanical Source:The fruit of bitter melon.
Pharmacological effects:Bitter gourd extract has good hypoglycemic effect, known as plant insulin. Full extract, for type two diabetes take three times a day, each time 2G, can maintain normal blood glucose levels, because it is a plant extract, so compared with western medicine hypoglycemic agents, non-toxic side effects.
Description:Plant balsam pear belongs to the gourd family and known as the name of bitter gourd. Balsam pear growing in tropical and subtropical regions, including parts of East Africa, Asia
In Europe, the Caribbean and South America, balsam pear is both food and medicine. It has beautiful flowers and prickly fruit. The fruit of this plant is the same as its name. Although bitter gourd seeds, leaves and vines can be used, but its fruit is the most safe and widely used in the medicinal parts of the plant. Its leaves sap and fruit or seeds are used as repellents; in Brazil, the dose of 2 to 3 seeds is used as an anthelmintic. Bitter gourd bitter fruit because of its bitter bitter bitter taste. Momordica charantia is mainly composed of three kinds of terpenoids, including A-E, K, L, momardicius, I, II and III. Roots and fruits are used as an abortion drug.
Please

at any time if you are interested in Bitter Melon Extract.
If you want to know about Bitter Melon Extract price , please call our Customer Services Hotline +86 592 5365887 or send the email to sales@medicinerawmaterials.com.



 After send online enquiry, we will reply you as soon as possible, if not get any response on time please contact us by Tel or Email.
Email:
sales@medicinerawmaterials.com
Tel: +86 592 5365887
WhatsApp: +86 189 6515 7632
Leave a Message
We will contact you within 24 hours.
You may also be intersted in these products.