OEM of Kinds of Packing Vitamin B Complex Tablet
OEM of Kinds of Packing Vitamin B Complex Tablet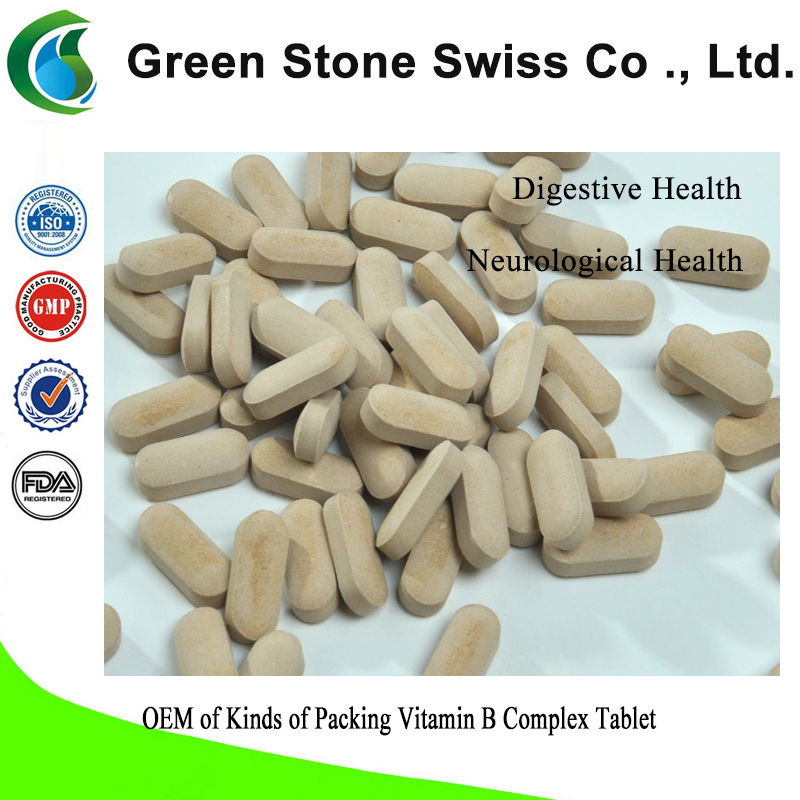 Product name: OEM of Kinds of Packing Vitamin B Complex Tablet  
Specification:300mg~1000mg
Packaging:Box
Function:Digestive and Neurological Health
A boost to energy and stamina, assists in maintaining a healthy circulatory, digestive,immune, and nervous system.
Vitamin B1
Deficiency can cause beriberi. Symptoms of this neurological disease include weight loss, mood disorders, Wernicke's encephalopathy (impaired sensory perception), weakness and pain in the limbs, arrhythmia and edema (swelling of body tissues). Heart failure and death may occur in some cases. Chronic thiamine deficiency causes Korsakoff syndrome, which is an irreversible dementia characterized by amnesia and compensatory fiction.
Vitamin B2
Main article: Riboflavin § deficiency
Deficiency can cause ariboflavinosis. Symptoms may include chematosis (cracked lips), high sensitivity to sunlight, keratitis, glossitis (tongue inflammation), seborrheic dermatitis or pseudosyphilis (especially affecting the large scrotum or labia majora and mouth) , Pharyngitis (sore throat)), congestion and edema of the pharynx and oral mucosa.
Vitamin B3
Deficiency and tryptophan can cause pellagra. Symptoms include aggressiveness, dermatitis, insomnia, weakness, insanity and diarrhea. In advanced cases, pellagra can cause dementia and death (3 (+1) D: dermatitis, diarrhea, dementia and death).
Vitamin B5
Deficiency can cause acne and paresthesias, although this is not common.
Vitamin B6
Main article: Vitamin B6§ deficiency
Seborrheic dermatitis-like outbreaks, red eye disease, neurological symptoms (eg epilepsy)
Disclaimer: the information on this website is from the internet for reference only. Please refer to the actual instructions attached to the product and the final interpretation is owned by the company.


Welcome to contact us
We sincerely welcome friends from all over the world to contact us. ​After sending an online inquiry, we will reply to you as soon as possible. If you do not get any response on time please call us.
We are committed to meeting customers' unique needs by providing comprehensive and professional service, enjoying a good reputation among our business partners and customers for high-quality products, excellent after-sales services, competitive prices, and prompt shipping.
Green Stone Swiss Co ., Ltd. Warehouse&Office
Shanghai Office: 168 Zhonggu Rd, Pingpu District, Shanghai, China.
Xiamen Office: 106, Houdaixi Road, Xiamen, China.
Tel: +86 592 5365887
Mobile phone: +86 189 6515 7632
E-mail:sales@medicinerawmaterials.com(Reply within 1 working day)

Our Sales Director
Company Culture
Our orientation:
Supplying safe and efficient ingredients and formulas for cosmetic and nutritional products.
Our mission:
Offering the best product design to customers with natural and high-quality raw materials.
Our values:
Honesty  Profession Win-win Cooperation
You may also be intersted in these products.