Licorice and Ginger Decoction Formula
Licorice and Ginger Decoction Formula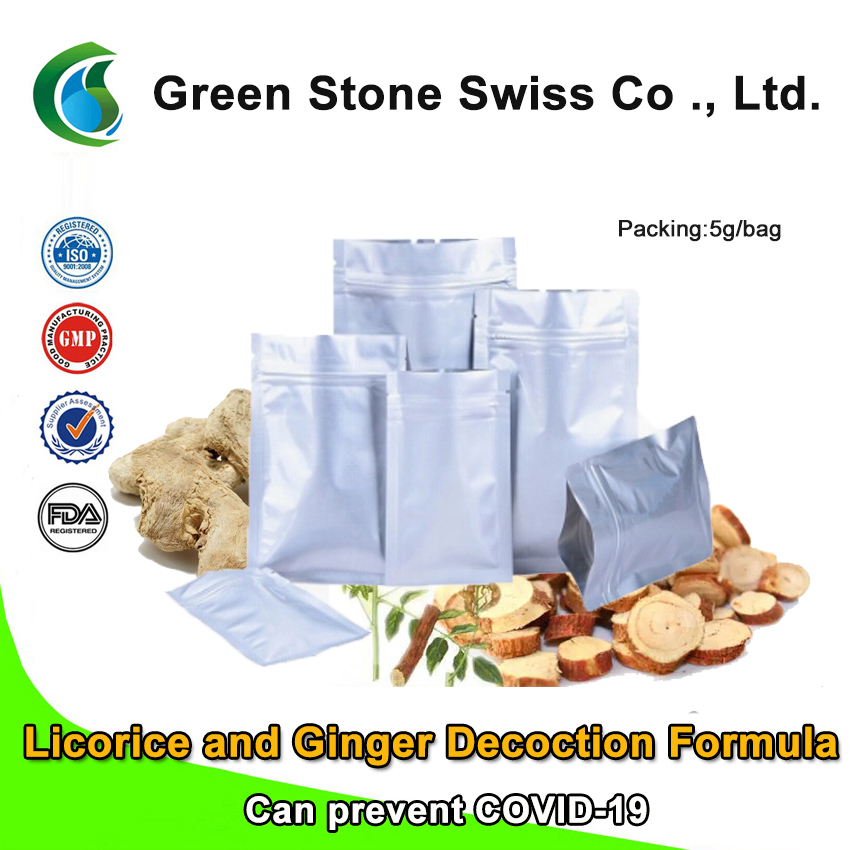 Category: Formulas that Warm Interior Cold, Warm the Middle and Dispel Cold
Appearance:  Powder (milled or granulated)
Ingredients: Licorice (fried) 12g, dried ginger (processed) 6g.
Packing: In bags. According to this formula, it can be made into 5 grams of powder per bag, packed in small aluminum foil bags. 
Actions:
   Warms the Stomach and Lungs;
  ---used for Stomach Vacuity Cold with Lung Qi Vacuity, with lack of thirst, dry throat, excessive salivation, vexation, and frequent urination.
Efficacy:
Warms the Channels
Disperses Cold
Description:
On March 5, 2020, CCTV4 broadcast a special program "Chinese Medicine, Fighting the Epidemic", which reported the successful use of pure Chinese medicine to prevent and treat the new coronavirus in the People's Hospital of Xutong County, Henan Province.
At the host's site, he was connected to the business director of Tongxu County People's Hospital, Shen Yongjun. Dean Shen said: Since the hospital received the first patient on the evening of January 21, the president decided to provide this "Chinese Licorice and Ginger Decoction" on January 22 to all the staffs in the hospital for prevention. And it created an impressed record with no infections in 1,250 staffs who working in this hospital; also all the visitors to this hospital with zero transfers, zero deaths, an impressive record.
Chinese licorice, sweet, replenishes qi and detoxifies, relieves cough and relieves asthma; 
Dried ginger is warm, and it can disperse the cold. 
The combination of Xingan and Fuyang can warm the yang of the chest and stomach, strengthen the spleen and invigorate qi, and detoxify and resist epidemics. Because of coronavirus pneumonia, which is a cold and damp epidemic, the licorice dry ginger soup can improve our immunity and has been used in the hospital to prevent coronavirus pneumonia sucessfully. Also the Chinese moxibustion are used popularly in the TCM hospitals in china to prevent the Coronavirus infection. 
According to the summary of traditional Chinese medical experts in the frontline clinical field, the novel coronavirus is unanimously considered a cold damp pestilence. Dried ginger dispels cold in warmth, and licorice can invigorate qi, detoxicate poisons, relieve cough and asthma. Therefore, combined with the cause and mechanism of this epidemic, COVID-19 can be prevented with Licorice and Ginger Decoction. 
The Licorice and Ginger Decoction comes from "Treatise on Cold Pathogenic and Miscellaneous Diseases" by Zhang Zhongjing, a famous doctor before 220 A.D. 
Composition: Honey-fried licorice root, dried ginger. There are two original intentions in Zhang Zhongjing's prescriptions: first, patients with typhoid fever accidentally take Guizhi decoction, causing deficiency-cold of the stomach, so they need to take dried ginger and licorice to restore spirit; 
second, weak lung can not control its inferior parts, causing more salivation, dizziness, enuresis, and frequent urination, while Licorice and Ginger Decoction can be used to warm lungs.
Disclaimer: the information on this website is from the internet for reference only. Please refer to the actual instructions attached to the product and the final interpretation is owned by the company.


Welcome to contact us
We sincerely welcome friends from all over the world to contact us. ​After sending an online inquiry, we will reply to you as soon as possible. If you do not get any response on time please call us.
We are committed to meeting customers' unique needs by providing comprehensive and professional service, enjoying a good reputation among our business partners and customers for high-quality products, excellent after-sales services, competitive prices, and prompt shipping.
Green Stone Swiss Co ., Ltd. Warehouse&Office
Shanghai Office: 168 Zhonggu Rd, Pingpu District, Shanghai, China.
Xiamen Office: 106, Houdaixi Road, Xiamen, China.
Tel: +86 592 5365887
Mobile phone: +86 189 6515 7632
E-mail:[email protected](Reply within 1 working day)

Our Sales Director
Company Culture
Our orientation:
Supplying safe and efficient ingredients and formulas for cosmetic and nutritional products.
Our mission:
Offering the best product design to customers with natural and high-quality raw materials.
Our values:
Honesty  Profession Win-win Cooperation
You may also be intersted in these products.