n-Decyl alcohol
n-Decyl alcohol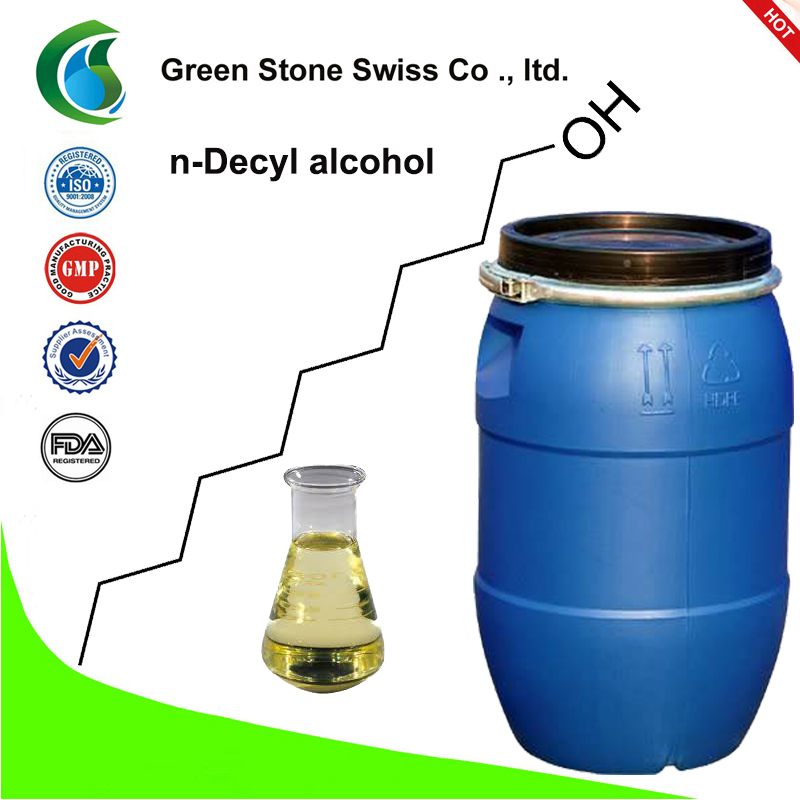 Synonyms: 1-DECANOL; Decan-1-ol; Decyl alcohol; Decanol 
CAS NO.: 112-30-1
Molecular Formula: C10H22O or CH3(CH2)9OH
Molecular weight: 158.285
Appearance: Colorlessto light yellow liquid
Assay:>98.0%(GC)
Specific gravity(20/20): 0.8270-0.8330
Refractive index n20/D: 1.4360-1.4380
Hydroxyl Value,mgkoh/g: 351-356
Acid Value,mgkoh/g: <0.1
Saponification Value,mgkoh/g: <1.0
Iodine Value,g/100g: <0.5
Color,APHA: <20
Moisture,%: <0.15
Uses: 
n-Decyl alcohol is used in the manufacture of plasticizers, lubricants, surfactants and solvents. Its ability to permeate the skin has led to it being investigated as a penetration enhancer for transdermal drug delivery.
Application: 
Used to prepare soap, daily cosmetics flavor. In the Cscis alcohol category occupies a very important position, with thousand roses floral flavor. 
As a citrus fruit flavor, used for beverages, candy and so on. Its use of food in the World (Nig Kn) as follows: Ice 4.6, Candy 5.2, chewing gum 3.0, drink 2.1. may not be used for purposes other than incense. 
n-Decyl alcohol is also a PVC wire coating material and high-grade artificial leather plasticizers (Diop, Dida) of raw materials, uranium refining, defoaming agent, surfactant raw materials, solvents. In agriculture, it can be used as a herbicide, pesticide solvent and stabilizer, and synthesized raw materials. 
As a ripening agent for green fruit, it can also be used to control seed germination of ornamental plants and tobacco. It can also be used in oil drilling and two oil recovery.
Description: 
n-Decyl alcohol is a straight chain fatty alcohol with ten carbon atoms . It is a colorless to light yellow viscous liquid that is insoluble in water and has an aromatic odor. The interfacial tension against water at 20 °C is 8.97 mN/m.
Storage:    Store in sealed containers at cool & dry place.
Protect from light, moisture and pest infestation.
Shelf life: 2 years when properly stored. 
Please

at any time if you are interested in n-Decyl alcohol.
If you want to know about n-Decyl alcohol price , please call our Customer Services Hotline +86 592 5365887 or send the email to sales@medicinerawmaterials.com.

Disclaimer: the information on this website is from the internet for reference only. Please refer to the actual instructions attached to the product and the final interpretation is owned by the company.


Welcome to contact us
We sincerely welcome friends from all over the world to contact us. ​After sending an online inquiry, we will reply to you as soon as possible. If you do not get any response on time please call us.
We are committed to meeting customers' unique needs by providing comprehensive and professional service, enjoying a good reputation among our business partners and customers for high-quality products, excellent after-sales services, competitive prices, and prompt shipping.
Green Stone Swiss Co ., Ltd. Warehouse&Office
Shanghai Office: 168 Zhonggu Rd, Pingpu District, Shanghai, China.
Xiamen Office: 106, Houdaixi Road, Xiamen, China.
Tel: +86 592 5365887
Mobile phone: +86 189 6515 7632
E-mail:sales@medicinerawmaterials.com(Reply within 1 working day)

Our Sales Director
Company Culture
Our orientation:
Supplying safe and efficient ingredients and formulas for cosmetic and nutritional products.
Our mission:
Offering the best product design to customers with natural and high-quality raw materials.
Our values:
Honesty  Profession Win-win Cooperation
You may also be intersted in these products.