Melanostatin DM
Melanostatin DM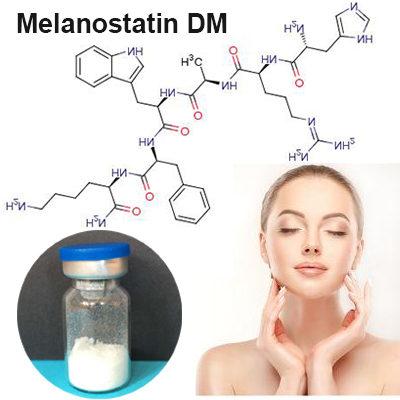 Synonyms:  histidyl-arginyl-alanyl-tryptophyl-phenylalanyl-lysinamide
Sequence:His-D-Arg-Ala-Trp-D-Phe-Lys-NH2
CAS NO.: 123689-72-5
Molecular Formula: C41H58N14O6
Molecular Weight: 842
Appearance: White powder
Application: Cosmetic
Purity: ≧95%
Source: synthetic
Solubility: soluble in water
Stability: stable
Description:
Melanostatin DM can be applied in various anti-aging personal care products, which can obviously remove eye wrinkles and crow's feet from the eyes, and remove the wrinkles caused by muscle contraction in the forehead.
Please

at any time if you are interested in Melanostatin DM.
If you want to know about Melanostatin DM price , please call our Customer Services Hotline +86 592 5365887 or send the email to sales@medicinerawmaterials.com.



 After send online enquiry, we will reply you as soon as possible, if not get any response on time please contact us by Tel or Email.
Email:
sales@medicinerawmaterials.com
Tel: +86 592 5365887
WhatsApp: +86 189 6515 7632
Leave a Message
We will contact you within 24 hours.
You may also be intersted in these products.