Copper ore
Copper ore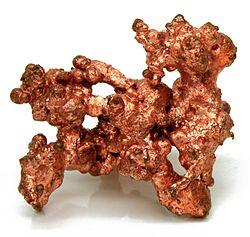 CAS:7440-50-8
Product description:Copper forms a rich variety of compounds with oxidation states +1 and +2, which are often called cuprous and cupric, respectively.It does not react with water, but it slowly reacts with atmospheric oxygen forming a layer of brown-black copper oxide. In contrast to the oxidation of iron by wet air, this oxide layer stops the further, bulk corrosion. A green layer of verdigris (copper carbonate) can often be seen on old copper constructions, such as the Statue of Liberty, the largest copper statue in the world build using repoussé and chasing.Hydrogen sulfides and sulfides react with copper to form various copper sulfides on the surface. In the latter case, the copper corrodes, as is seen when copper is exposed to air containing sulfur compounds. Oxygen-containing ammonia solutions give water-soluble complexes with copper, as do oxygen and hydrochloric acid to form copper chlorides and acidified hydrogen peroxide to form copper(II) salts. Copper(II) chloride and copper comproportionate to form copper(I) chloride.
Please

at any time if you are interested in Copper ore.
If you want to know about Copper ore price , please call our Customer Services Hotline +86 592 5365887 or send the email to sales@medicinerawmaterials.com.

Disclaimer: the information on this website is from the internet for reference only. Please refer to the actual instructions attached to the product and the final interpretation is owned by the company.


Welcome to contact us
We sincerely welcome friends from all over the world to contact us. ​After sending an online inquiry, we will reply to you as soon as possible. If you do not get any response on time please call us.
We are committed to meeting customers' unique needs by providing comprehensive and professional service, enjoying a good reputation among our business partners and customers for high-quality products, excellent after-sales services, competitive prices, and prompt shipping.
Green Stone Swiss Co ., Ltd. Warehouse&Office
Shanghai Office: 168 Zhonggu Rd, Pingpu District, Shanghai, China.
Xiamen Office: 106, Houdaixi Road, Xiamen, China.
Tel: +86 592 5365887
Mobile phone: +86 189 6515 7632
E-mail:sales@medicinerawmaterials.com(Reply within 1 working day)

Our Sales Director
Company Culture
Our orientation:
Supplying safe and efficient ingredients and formulas for cosmetic and nutritional products.
Our mission:
Offering the best product design to customers with natural and high-quality raw materials.
Our values:
Honesty  Profession Win-win Cooperation
You may also be intersted in these products.