Phlorizin
Phlorizin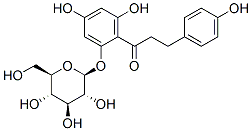 CAS No.:60-81-1
Molecular Formula: C21H24O10 
Molecular Weight: 436.41 
Appearance:White to yellow crystalline solid
Description:The crystalline substance is white to yellow. It is of sweet taste and contains four molecules of water in the crystal.
Phlorizin is a toxic 2'-glucoside of phloretin. It belongs to the group of dihydrochalcones, a type of flavonoids. It is a competitive inhibitor of renal glucose transport.
Phlorizin is naturally occurring in some plants. It could be found in the bark of pear (Pyrus communis), apple, cherry and other fruit trees (Rosaceae) and is responsible for the petal color in Dianthus caryophyllus.
Please

at any time if you are interested in Phlorizin.
If you want to know about Phlorizin price , please call our Customer Services Hotline +86 592 5365887 or send the email to sales@medicinerawmaterials.com.



 After send online enquiry, we will reply you as soon as possible, if not get any response on time please contact us by Tel or Email.
Email:
sales@medicinerawmaterials.com
Tel: +86 592 5365887
WhatsApp: +86 189 6515 7632
Leave a Message
We will contact you within 24 hours.
You may also be intersted in these products.