Staphylase™ Test Kit
Staphylase™ Test Kit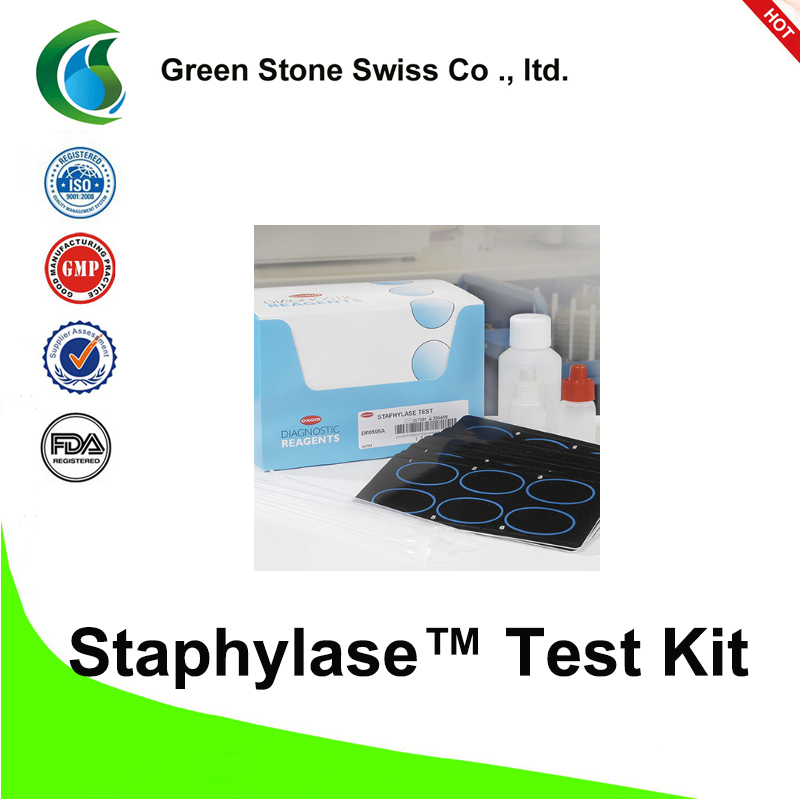 Model: DR0595 A  OXIOD
Appearance: Colorless and blue liquid
Quantity:  100 Tests/Kit
Applications: Clinical Microbiology    
DR0595A contains:
DR0596, Staphylase Test Reagent is composed of fibrinogen sensitized sheep red blood cells.
DR0597, Staphylase Control Reagent is composed of unsensitized sheep red blood cells.
Storage:  temperature 2-8℃, not frozen, use before expiry date.
Note: both reagents contain 0.1% sodium azide as a preservative.
Description:
Use this rapid agglutination test for the identification of Staphylococcus aureus by detection of clumping factor. Staphylococcus aureus is characterized by its ability to produce free or bound coagulase (or agglutination factor).There are many methods to detect the appearance of agglutination factors. DR0595A is a passive hemagglutinin assay kit, and DR0850 is more specific.Clumping factor is detected through agglutination of fibrinogen-sensitized sheep red blood cells. The specificity of the reaction is ensured by a simultaneous test with a control reagent (unsensitized sheep red blood cells) when no clumping reaction should be observed. A positive result is obtained if clumping of the test cell suspensions occurs during mixing. This indicates the presence of Staphylococcus aureus.
Included in the kit is a test reagent consisting of rabbit fibrogen-sensitized sheep red blood cells, control reagent consisting of unsensitized sheep red blood cells, and disposable reaction cards.
The kit is simple in configuration, easy to be industrialized in production, sensitive in detection, short in cycle and strong in operability. It is suitable for processing high-throughput samples and can be widely used in food hygiene, environmental monitoring and other fields.
Please

at any time if you are interested in Staphylase™ Test Kit.
If you want to know about Staphylase™ Test Kit price , please call our Customer Services Hotline +86 592 5365887 or send the email to [email protected].

Disclaimer: the information on this website is from the internet for reference only. Please refer to the actual instructions attached to the product and the final interpretation is owned by the company.


Welcome to contact us
We sincerely welcome friends from all over the world to contact us. ​After sending an online inquiry, we will reply to you as soon as possible. If you do not get any response on time please call us.
We are committed to meeting customers' unique needs by providing comprehensive and professional service, enjoying a good reputation among our business partners and customers for high-quality products, excellent after-sales services, competitive prices, and prompt shipping.
Green Stone Swiss Co ., Ltd. Warehouse&Office
Shanghai Office: 168 Zhonggu Rd, Pingpu District, Shanghai, China.
Xiamen Office: 106, Houdaixi Road, Xiamen, China.
Tel: +86 592 5365887
Mobile phone: +86 189 6515 7632
E-mail:[email protected](Reply within 1 working day)

Our Sales Director
Company Culture
Our orientation:
Supplying safe and efficient ingredients and formulas for cosmetic and nutritional products.
Our mission:
Offering the best product design to customers with natural and high-quality raw materials.
Our values:
Honesty  Profession Win-win Cooperation
You may also be intersted in these products.