Palmitoyl Tripeptide-1
Palmitoyl Tripeptide-1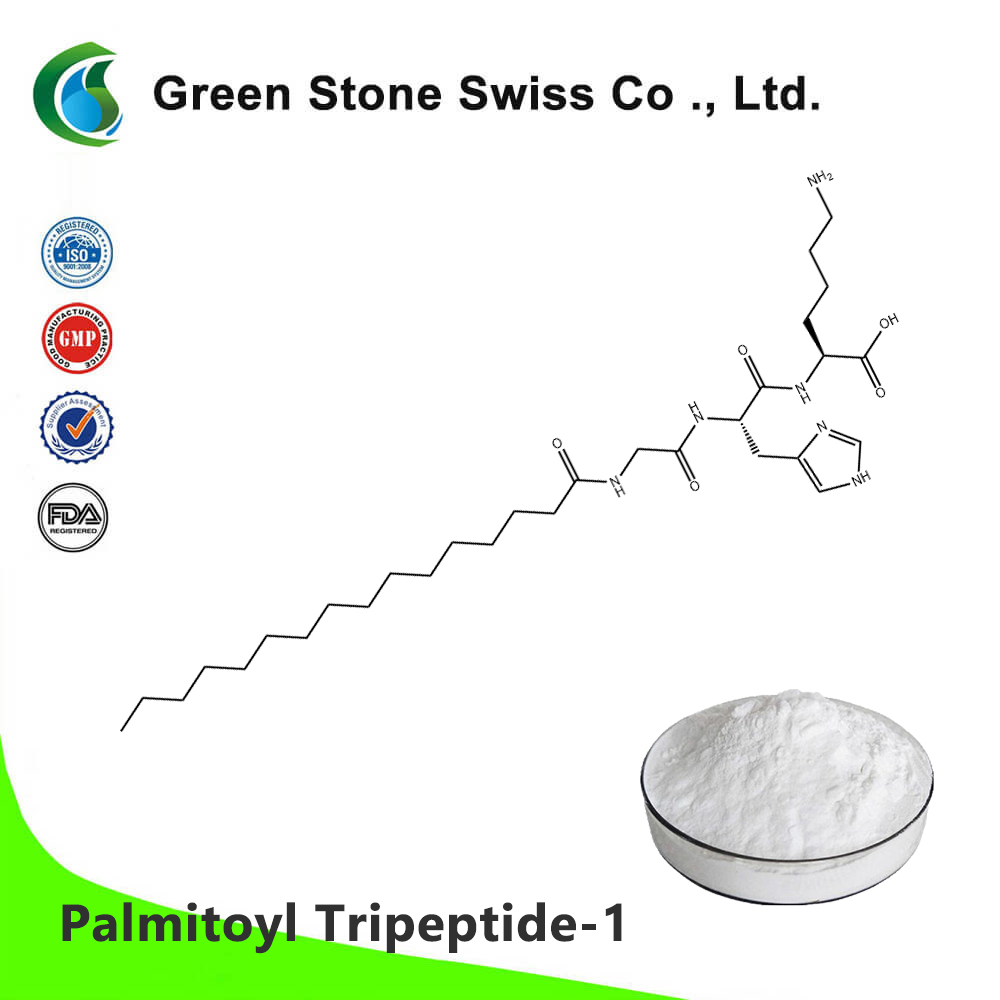 CAS NO.: 147732-56-7
Molecular Formula:C30H54N6O5
Molecular weight:578.79
Usage: Cosmetic Raw Materials,Growth-promoting; anti-aging products; Beauty product ingredients, cosmetic ingredients
Appearance: White Powder
Description About Palmitoyl Tripeptide-1
Palmitoyl tripeptide-1 is a version of GHK designed for better skin penetration, intended to stimulate collagen and skin matrix replenishment via topical application, leading to wrinkle reduction, skin firming, skin roughness improvement, and other benefits.
It can be used separately or in combination with palmitoyl tetrapeptide-7 as a cosmetic anti-aging active ingredient.
It's a small three amino acid (they are the building blocks of all proteins) peptide with the amino sequence of glycine-histidine-lysine, or GHK. GHK is attached to palmitic acid (a fatty acid) to increase oil solubility and skin penetration.
Synonyms/Alias:L-Lysine, N-(1-oxohexadecyl)glycyl-L-histidyl-;
N2-[(N-Palmitoylglycyl)-L-histidyl]-L-lysine ;
Pal-GHK(PalMitoyl Tripeptide-1);
N-(1-Oxohexadecyl)glycyl-L-histidyl-L-lysine ;
N2-[N-[N-(1-oxohexadecyl)glycyl]-L-histidyl]-L-lysine;PalMitoyl Tripeptide-1¡¢3 ;
Palmitoyl Tripeptide-1/Pal-GHK
Stability:Stable
Shelf life:2 years
Please

at any time if you are interested in Palmitoyl Tripeptide-1 Product.
If you want to know about product price , please call our Customer Services Hotline +86 592 5365887 or send the email to [email protected].



Welcome to contact us
We sincerely welcome friends from all over the world to contact us. ​After sending an online inquiry, we will reply to you as soon as possible. If you do not get any response on time please call us.
We are committed to meeting customers' unique needs by providing comprehensive and professional service, enjoying a good reputation among our business partners and customers for high-quality products, excellent after-sales services, competitive prices, and prompt shipping.

Our Sales Director
Company Culture
Our orientation:
Supplying safe and efficient ingredients and formulas for cosmetic and nutritional products.
Our mission:
Offering the best product design to customers with natural and high-quality raw materials.
Our values:
Honesty  Profession Win-win Cooperation
You may also be intersted in these products.