Annonacin
Annonacin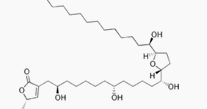 CAS: 111035-65-5
Purity:99%
Storage:Avoid exposure to sunlight,Keep dry
Product description :Along with other acetogenins, annonacin blocks mitochondrial complex I (NADH-dehydrogenase), which is responsible for the conversion of NADH to NAD+ and the build-up of a proton gradient over the mitochondrial inner membrane. This effectively disables a cell's ability to generate ATP via an oxidative pathway, ultimately forcing a cell into apoptosis or necrosis.
 
Please

at any time if you are interested in Annonacin.
If you want to know about Annonacin price , please call our Customer Services Hotline +86 592 5365887 or send the email to sales@medicinerawmaterials.com.



 After send online enquiry, we will reply you as soon as possible, if not get any response on time please contact us by Tel or Email.
Email:
sales@medicinerawmaterials.com
Tel: +86 592 5365887
WhatsApp: +86 189 6515 7632
Leave a Message
We will contact you within 24 hours.
You may also be intersted in these products.