Aflatoxin P1
Aflatoxin P1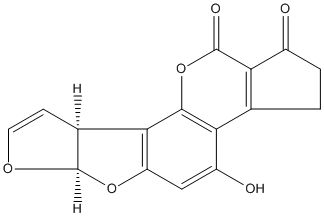 CAS:32215-02-4
Molecular formula:C16H10O6 
Product description:Microsomes prepared from livers of chickens given enzyme inducers had increased capability to convert aflatoxin P1 to its glucuronide conjugate. This capability was 190% +/- 19 and 184% +/- 13 of control values (mean +/- S.E., N = 4) 96 h after intraperitoneal administration of 80 mg/kg beta-naphthoflavone or 3-methylcholanthrene, respectively. Glucuronidation of aflatoxin P1 was also increased 15 days after 500 mg/kg i.p. of a polychlorinated biphenyl mixture (to 471% +/- 111). Fifteen days on a low protein diet (containing 54% of normal levels) did not alter aflatoxin glucuronidation. Increased glucuronidation after administration of inducers was due to increased specific activity of the microsomal enzymes.
Please

at any time if you are interested in Aflatoxin P1.
If you want to know about Aflatoxin P1 price , please call our Customer Services Hotline +86 592 5365887 or send the email to sales@medicinerawmaterials.com.



 After send online enquiry, we will reply you as soon as possible, if not get any response on time please contact us by Tel or Email.
Email:
sales@medicinerawmaterials.com
Tel: +86 592 5365887
WhatsApp: +86 189 6515 7632
Leave a Message
We will contact you within 24 hours.
You may also be intersted in these products.