Linaclotide
Linaclotide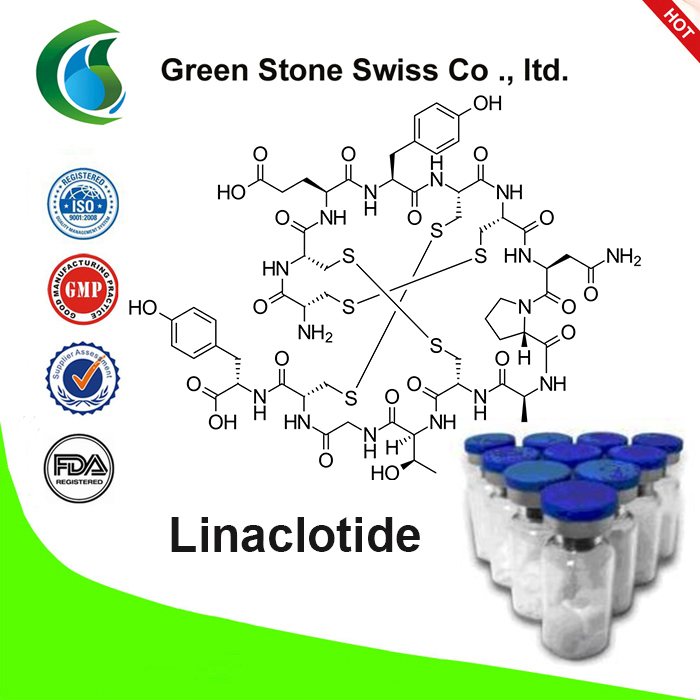 Synonyms:  
Sequence: Cys-Cys-Glu-Tyr-Cys-Cys-Asn-Pro-Ala-Cys-Thr-Gly-Cys-Tyr(Cys1&Cys6,Cys2&Cys10, Cys5&Cys13 bridge)
CAS NO.:  851199-59-2
Molecular Formula: C59H79N15O21S6
Molecular Weight: 1526.74
Appearance: White powder
Density: 1.60
Purity: ≧98%
Effect:
The intestinal and intestinal secretion-promoting effects of this drug and the improvement of colonic hyperalgesia are thought to contribute to the improvement of bowel movement abnormalities and abdominal pain, abdominal discomfort in constipation-type irritable bowel syndrome.
Description:
Linaclotide is a 14-amino acid peptide that is a uridine cyclase C receptor agonist in intestinal epithelial cells. Experiments have shown that the drug promotes fluid secretion and transport.
Linaclotide is used to treat irritable bowel syndrome with constipation and chronic constipation with no known cause.
Please

at any time if you are interested in Linaclotide.
If you want to know about Linaclotide price , please call our Customer Services Hotline +86 592 5365887 or send the email to sales@medicinerawmaterials.com.



 After send online enquiry, we will reply you as soon as possible, if not get any response on time please contact us by Tel or Email.
Email:
sales@medicinerawmaterials.com
Tel: +86 592 5365887
WhatsApp: +86 189 6515 7632
Leave a Message
We will contact you within 24 hours.
You may also be intersted in these products.